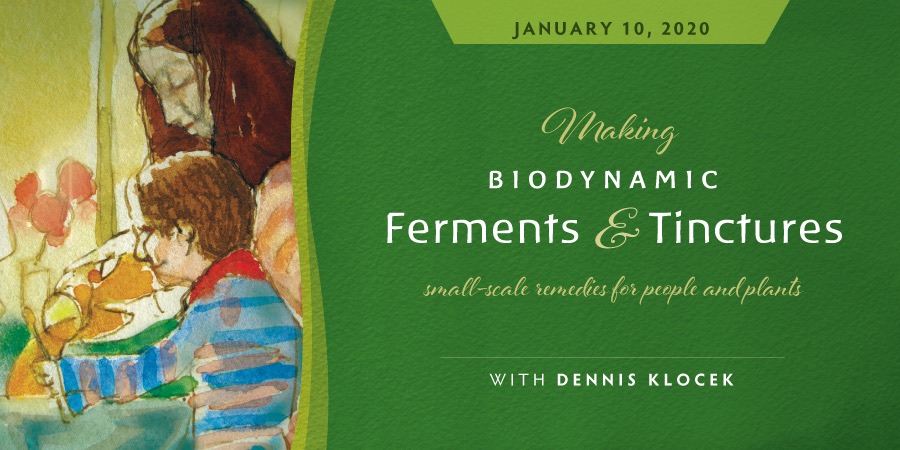 Making Biodynamic Ferments & Tinctures
FRIDAY JANUARY 10, 2020, 9 AM – 5 PM
Yokayo Ranch, 800 Hensley Creek Rd, Ukiah
"Small-scale remedies for people and plants."
Large-scale production of medicinal tinctures demands highly streamlined production processes to be cost effective that significantly reduces healing potentials in a product. Small scale medicinal tinctures and condiment production is an agricultural art benefiting from leisurely harvests and processing rhythms to achieve peak quality. Uniquely potent health products unavailable on a commercial scale can result. We will cover recipes for ferments of plant hormones for sprays to enhance vegetable, fruit and medicinal plant properties as well as recipes for alcohol and vinegar ferments to extract herbs and preserve food.
Demonstrations of small, highly efficient equipment for this work will be accompanied by timelines for planning the complex sowing, spraying, harvesting and processing tasks needed for optimal results. The deeper synergies of this artisanal agricultural work will be the focus of the day.
SPONSORED BY IAN POWELL & LUKE FREY
Saturday morning, January 11 : BDANC Lecture by Dennis Klocek: "Three American Agricultural Economies"
About the presenter
Dennis Klocek, MFA, is co-founder of the Coros Institute and a faculty member at Rudolf Steiner College. He is the author of nine books, including the newly released Colors of the Soul; Esoteric Physiology and also Sacred Agriculture: The Alchemy of Biodynamics. Dennis is also an international lecturer; see DennisKlocek.com for more.
---
REGISTRATION
Pay with Credit Card (online form)
Pay with a Check (print and mail form).
Registration Cancellation by Participant: Unless specifically stated on registration materials, the deadline to receive a refund for your registration is 7 business days before the event. The cancellation must be in writing to [email protected]. Registration cancellations received prior to the deadline are eligible to receive a refund less a $35 service fee.
CONFERENCE FEE
Sliding scale $95-$125.
Preregistration by January 3rd includes lunch.
Amounts above $95 can be considered a donation for scholarships: receipt is available upon request.
Email [email protected] for scholarship requests.
LOCATION & MAP
Yokayo Ranch, 800 Hensley Creek Rd, Ukiah
(Map)
DIRECTIONS
From San Francisco or Santa Rosa (or anywhere south of Ukiah): Take the North State Street exit in Ukiah. Turn Right onto State St, drive for half a mile. Turn Left onto Hensley Creek Rd (towards Mendocino College). Turn Right at the Yokayo Ranch Sign (800 mailbox). Stay left at the fork.
LODGING
Suggested hotels
Travel Lodge, Ukiah 707-462-5745 is in walking distance to Yokayo Ranch.
Quality Inn, Ukiah 707-462-2906
Comfort Inn 707-462-3442
---
For more information including scholarship assistance call 916-717-6007 (email [email protected] for details).